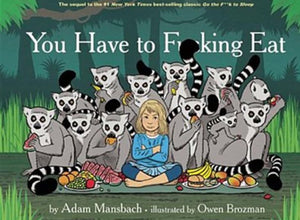 Raincoast
You Have To F***ing Eat
Regular price
$18.91
$0.00
Unit price
per
A
New York Times
Best Seller
One of
BookRiot
's Must-Read Books from Indie Presses for 2014
One of
Flavorwire
's 50 Best Independent Fiction and Poetry Books of 2014
You Have to F***ing Eat
makes parents of picky eaters smile."
--
TODAY Parents
"Adam Mansbach...will delight exhausted and exasperated parents everywhere for a second time with
You Have to F**king Eat
--another children's book that is most definitely not for children."
--
Entertainment Weekly
"An equally hilarious ode to kids at the table."
--
Huffington Post
"Parents, Adam Mansbach gets you. He understood that sometimes your kids just won't go the f**k to sleep. And, in his new foulmouthed bedtime book for parents out Wednesday, he understands that sometimes they just won't f**king eat. And he knows, well, it's really f**king annoying. So how about some f**king comic relief?"
--
GQ
"A likeable variation on a universal f***ing theme."
--
Kirkus Reviews
"A hilarious sendup of the eternal fight between kids and their parents over what to eat and when--if at all."
--
New York Journal of Books
"If you're a frustrated parent with a picky child, or even just one who appreciates 'deranged' humor, especially humor that rhymes, this is a terrific read for you...Parents will enjoy a good chuckle and subtle reminder that everything is better, including parenthood, if tackled with a little bit of humor."
--
San Francisco Book Review
"
You Have to F**cking Eat
, Sequel to
Go the F**k to Sleep
, Is Finally F**king Coming...It will arrive just in time to gift it to your brother-in-law, who, upon unwrapping it, will clutch it immediately to his chest and shake his head furiously at his waist-high daughter as she claws at him with her chewed up nails. 'No, no, it's not for you,' he'll say, laughing and crying at the same time."
--
Flavorwire
"An uproarious spoof of bedtime board books."
--
San Francisco Chronicle
"A 21st-century bedtime story for the ages (and all ages) if there ever was one."
--
Bay Area Reporter
"Parents, when your precious angel rips you from your three hours of sleep to demand food that he won't actually eat, you'll want this f'ing book."
--
Mashable
---