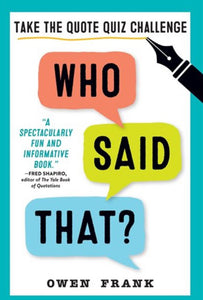 Thomas Allen
Who Said It?
Regular price
$11.32
$0.00
Unit price
per
Ready? You probably heard this quote: "Ever tried. Ever failed. No matter. Try again. Fail again. Fail better." But do you remember who said it? A) Samuel Beckett B) George Washington Carver C) Alexander Graham Bell D) e.e. cummings? Or how about: "I pride myself on the fact that my work has no redeeming value." Would that be A) Madonna B) Gene Simmons) C) John Waters D) Trey Parker?

Quotes have the power to inspire us, crack us up, make us think twice—and sharing them only spreads the joy (just look at the virality of quote posts on Instagram, or the enormous success of The Stupidest Things Ever Said Page-A-Day Calendar). Now comes a compendium of funny, inspirational, and zany remarks with a twist—Who Said That? combines the pleasure of quotes with the fun of a multiple-choice trivia quiz. Here are hundreds of witticisms, musings, words of encouragement, and canny observations from iconic figures, philosophers, comedians, writers, and beyond—and each one comes with a list of four possible speakers.
Each quiz also includes information about quote context and speakers. Divided by theme—from Aging to Motivation—Who Said That? is the perfect thing to bring to a party, or leave on a coffee table for an entertaining, actually-learn-something browse. Because even if you didn't know who Gore Vidal was referring to in this quote—"A genius with the IQ of a moron."(A. Andy Warhol, B. William F. Buckley, C. Norman Mailer, or D. Andy Kaufman?)—you'll never forget it now.
 
Answers: A, C, A
---