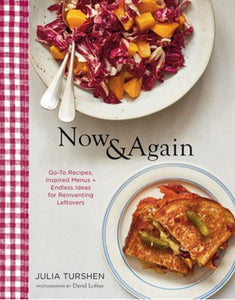 Raincoast
Now & Again Cookbook
Regular price
$30.02
$0.00
Unit price
per
Named one of the most anticipated cookbooks by Eater, Epicurious, Food & Wine and was selected as a New York Times notable pick

With 125+ delicious and doable recipes and 20 creative menu ideas for cooks of any skill level.

Go-to recipes, inspired menus and ideas for reinventing leftovers: Now & Again will change the way we gather, eat and think about leftovers. In this new cookbook by the author of Small Victories, fans and newcomers alike will delight in Julia Turshen's funny and encouraging voice as she helps cooks of any skill level to gather friends and family around the table to share a meal (or many!) together. With more than 125 delicious and doable recipes including the popular Applesauce Cake with Cream Cheese Impress your guests with 20 inspiring menus for amazing social gatherings, holidays, and more Named one of the 100 Greatest Home Cooks of All Time by Epicurious, Julia Turshen is the bestselling author of the highly acclaimed and award-winning Now & Again, Feed the Resistance, and Small Victories . Now & Again is the type of cookbook you'll reach for time and time again. Approachable and designed with both novice and advanced cooks in mind, the recipes, ideas, and techniques for reinventing leftovers will become a staple in your kitchen.

With 125+ delicious and doable recipes and 20 creative menu ideas for all levels of cooks, you will think about leftovers in an entirely new way Helpful It's Me Again" recipes show how to use leftovers in new and delicious ways Tips on how to be smart and thrifty with food choices Selected as one of the Top 10 Jew-ish Cookbooks by The Forward and nominated for a Goodreads Choice Award for Best Cookbooks 2018. Helpful prep and plan timelines for flawlessly throwing a party "
---