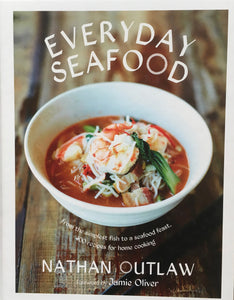 Homework Prince Rupert
Everyday Seafood Cookbook-Nathan Outlaw
Regular price
$31.72
$0.00
Unit price
per
In Everyday Seafood, Nathan Outlaw offers 100 brand-new recipes for all kinds of fish and shellfish. From the simplest fish to a seafood feast. 
Economical and healthy, good-quality fresh seafood is also fast and easy to cook.
Nathan's recipes range from soups and stews, through to seafood salads, and oven-baked and barbecued fish. There are suggestions for light snacks, dips, and nibbles as well as tasty cures, pickles, and ceviche, plus ideas for desserts to round off a fish-based meal.

With tips on what to look out for when buying seafood, which fish are sustainable, and how to plan your menus, Nathan's fabulous recipes will ensure that you make seafood part of your everyday cooking.
Hardcover.
---