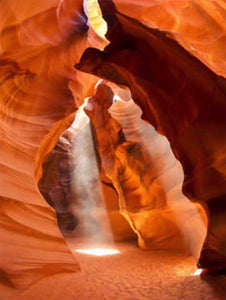 David Youngson
Antelope Canyon Puzzle
Regular price
$18.88
$0.00
Unit price
per
Carved into the reds and golds of northern Arizona sandstone, Antelope Canyon is among the world's most photogenic natural landscapes. Formed by water rushing through rock, it's a slot canyon – a narrow gash in the earth – its swirling ridged rock walls a canvas of extraordinary colors in subtle grades from muted purple to bright orange. When the sun is at its highest point, beams of light shoot down from above so brightly and powerfully they look tangible.

The canyon has two parts, both located on the Navajo Indian Reservation and both reachable only by guided tour. It is over 100 feet deep, but only 8 to 12 feet wide at its sandy floor. Popular with visitors, Antelope Canyon and other slot canyons in the American southwest can be dangerous during flash floods that can follow rainstorms.
National Geographic Photography
500 Piece Jigsaw Puzzle
Finished Puzzle Size: 18"x24"
---