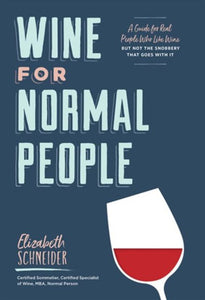 Raincoast
Wine For Normal People
Regular price
$26.41
$0.00
Unit price
per
From the creator and host of the award-winning podcast Wine for Normal People, described by Imbibemagazine as a wine podcast for the people."

Wine for Normal People is an unpretentious guide to everything you ever wanted to know about wine.

Learn a not-snobby wine vocabulary, how and where to buy wine, how to read a wine label, and so much more.

Rich with charts, maps and lists
Includes tips on how to smell, swirl, and taste wine
Both highly comprehensive and approachable

Explore the basics of wine, including tasting, regions, wine making, etiquette, and buying with this vividly illustrated handbook.

Author Elizabeth Schneider's deep knowledge and unintimidating delivery make this a friendly introductory wine book.

The perfect gift for Mother's and Father's Day, millennials who are starting to get serious about wine, fans of the Wine for Normal People podcast, and people in the restaurant industry
A down-to-earth resource for anyone seeking an introduction to the world of wine
Great for those who loved Wine Folly: The Master Guide by Madeline Puckette and Justin Hammack, The Wine Bible by Karen MacNeil, and Cork Dork: A Wine-Fueled Adventure Among the Obsessive Sommeliers, Big Bottle Hunters, and Rogue Scientists Who Taught Me to Live for Taste by Bianca Bosker"
---