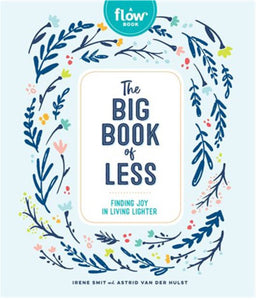 Thomas Allen
The Big Book Of Less
Regular price
$30.22
$0.00
Unit price
per
From Flow, a beautiful, mindful guide to having less stuff. Less stress. Less distraction. Less everything.

In less comes the freedom of letting go. This thoughtful and surprising book shows us how to get there, by paring down not just the jumble of things around us, but the clutter in our heads, too. And to help, interact with special paper goodies, including a one-thought-a-day diary, a foldout tiny house to let you imagine the pleasures of living in a small and cozy space, and art posters that depict a beautiful picture of what it means to do less, not more.

Paper goodies from The Big Book of Less include:
2 journals
A dot journal poster
4 art posters
1 foldout tiny house with 20 accessories
And even more hidden treasures
 
Decluttering your life and mind makes room for more—more listening, more focus, more wisdom, more time. More life.
Hot off the back of her incredibly popular Monday Punday online series, Gemma Correll has surveyed her army of punning fans to create this hilarious collection of her best illustrated puns, as well as lots of new ones. Over the following pages you will see grin-inducing puns such as Wonton?Cruelty featuring sadistic dim sum, or rotten eggs hurling abuse at each other. The sweet tooth has brought you some flowers and the seal of approval is very pleased to meet you. With over 50 puns, this book will bring a smile to even the most miserable person's face.
---