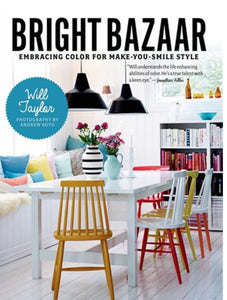 Raincoast
Bright Bazaar - Embracing Color
Regular price
$22.60
$0.00
Unit price
per
Dive into a refreshing take on color from one of the world's leading interiors bloggers, Will Taylor of Bright.Bazaar, West Elm's "go-to blogger for color inspiration." What began as a popular blog attracting over 400,000 readers a month is now a gorgeous, color-popping book sure to delight and inspire all. And as one of Pinterest's top influencers with over 2.4 million followers, people are taking note.
Praised by design star Jonathan Adler as "a true talent with a keen eye," Will guides you through making the most of the cornerstone of your life - where you live. He starts by giving you jumping-off points for considering how to use color. Next, he arms you with the know-how needed to replicate the looks through using ten color cocktails, from soft and delicate pastel hues to bright and bold color statements.
Each color scheme begins with Will sharing his personal photographs and the memories that inspired each palette. He then goes on to show how these inspirations can be used in real-life decorating via easy-to-translate examples, complete with color checklists, swatch scrapbooks, illuminating room analyses and nuggets of Will's color secrets.
More than 350 brand new color photographs invite you into homes both big and small across the world. Bright Bazaar's take on color is packed with personality and heart, playful but informative, and brimming with useful decorating ideas to make any home more beautiful.
---